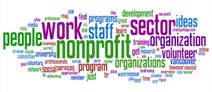 Whether you are starting a non-profit or are in an executive role, you know the organization does not run by itself. Many non-profits struggle with cash flow issues and Executive Directors may lack the administrative skills necessary to manage the organization. Hiring a Virtual Assistant can be a cost-effective way to handle those administrative tasks. Here are a few examples of how The Essential Assistant can help your non-profit organization.
Social Media Development:
Gaining awareness for your non-profit is important for attracting donors, volunteers, and other supporters. As The Essential Assistant, I can work with you to develop the right content that will be posted consistently using the most appropriate platforms for your organization.
Connecting with Donors:
Donor appreciation is a top priority within non-profits. However, your donors also want to feel connected and a part of your organization. Reaching donors in a timely manner with thank-you letters, newsletters, press releases and more are tasks that I can help you with.
Volunteer Coordination:
Volunteers are essential to the success of non-profit organizations. From recruitment to retainment volunteer coordination can take a significant amount of time, time that an Executive Director and other staff may not have. The Essential Assistant can help track hours, tasks, progress, and organize volunteer appreciation activities and events while building a stronger connection between the volunteers and the community.
Board Communications:
Assembling board packets with the previous meeting's minutes, agenda, committee reports, program updates, and financial reports is another time-consuming administrative task that the Essential Assistant can perform.
Email Marketing/Management:
Email marketing and follow-up is key to communicating information about your non-profit. I can create and schedule your email marketing campaigns to help spread the word about your cause and organization to make sure you are reaching the right audience with the right message at the right time.
General Administrative Tasks:
Presentations, events, annual reports, meetings, data entry and more are all tasks that I can help out with so that you have time to focus on making a difference for your cause. Non-profit virtual assistants understand your organization, know where the challenges lie and know how to help.
Contact me to learn more 720-234-4658 

All the best,
Jo